Children gave the façade "The Moon Car Test"
When the municipality of Køge in Denmark built the kindergarten and nursery "Børnehuset Valhalla", they employed a new and untraditional testing method for selecting materials for the façade – The Moon Car Test. The idea was to ensure they had a durable and maintenance-free façade, thus ensuring a long service life and low maintenance costs.
Buildings where active kids gather every day must be able to withstand all the abuse from the children's fun and games.
We had the idea because we had previously experienced Eternit fibre cement panels just cracking under the strain of the children's daily play, where – among other things – they had driven into the walls with their "Moon Car" go-karts that most kindergartens have.​ Anette Kaae Bødker, Project Manager in Køge Municipality's Building Department​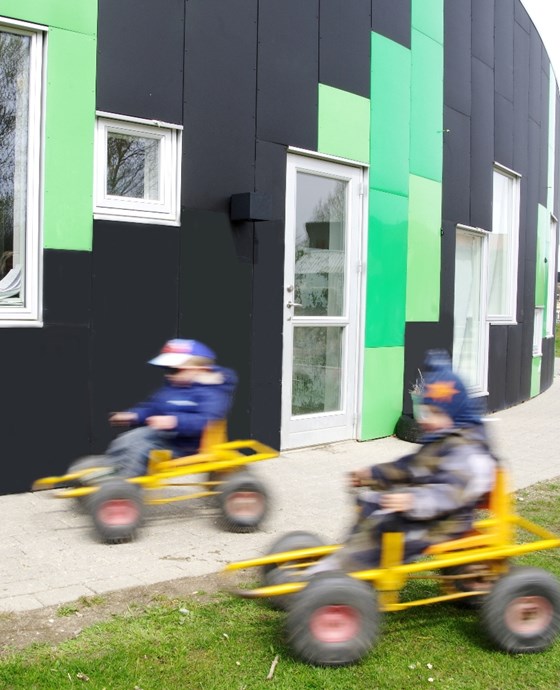 Steni set up a test wall and, after quite some time, Anette Kaae Bødker and her colleagues checked how the façade had held up.
"We urged the children, teachers, and other adults to drive into the wall to see what it could tolerate. Of course, the children thought it was great fun, as they are normally not allowed to 'crash' into the walls. The wall was also exposed to a lot of other strains like ball games, mud-throwing, etc.," tells Anette Kaae Bødker.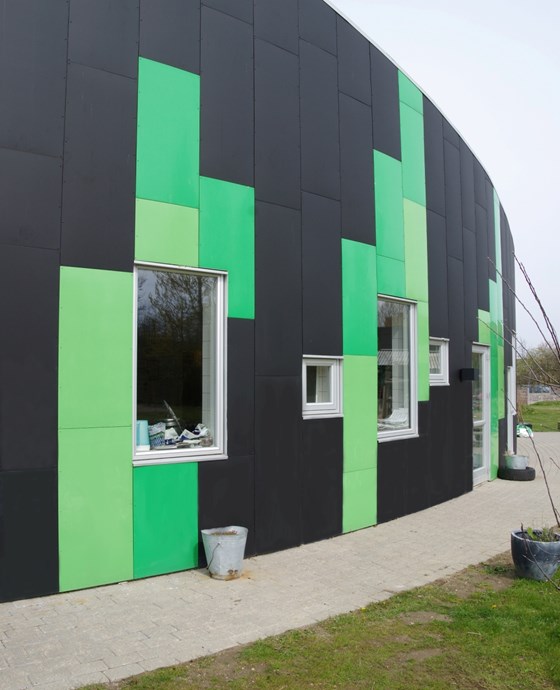 The black and green curved façade at "Børnehuset Valhalla" is holding up well.
The Steni panels passed the test, and the Building Department was pleased with the results. So, naturally, they chose Steni façade panels.
And the kindergarten's black and green curved façade is still holding up well, despite being the "workplace" of more than 140 children and adults every day.
FACTS
THE MOON CAR TEST
Basically, "The Moon Car Test" encourages children at schools, after school activity programmes or sports clubs to drive straight into the building's façade panels with "Moon Car" go-karts. That way you can see what the façade panels can really withstand. Of course, the test is conducted in close cooperation with the institution concerned – and under safe conditions for the children driving the "Moon Cars".