Energy-plus building with façade panels from Steni receives "Excellent" BREEAM-NOR certification
When Link Arkitektur were commissioned to design an energy-plus kindergarten for Omsorgsbygg in Oslo, achieving a "Very Good" BREEAM-NOR certificate was a minimum requirement. With innovative solutions and façade panels from Steni, though, the end result was in fact "Excellent".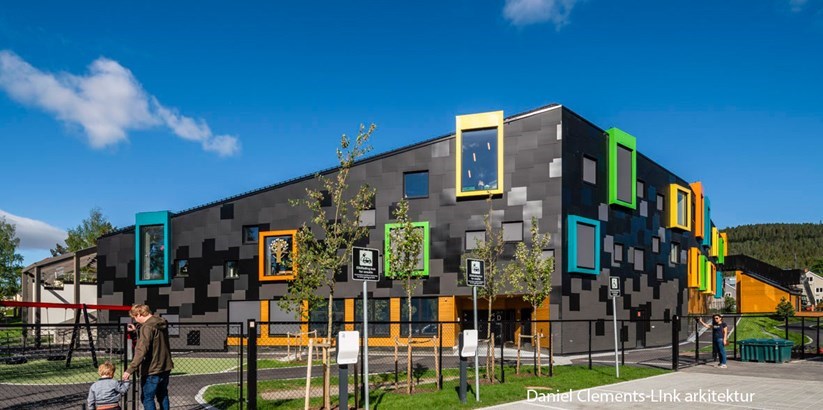 The result is an energy-plus building in which the appearance of the roof, which is mainly covered by photovoltaic cells, is in keeping with the walls, which are clad with façade panels supplied by Steni. This allows the solar panels to become an integral part of the building.
For its part, Steni is also impressed with the result and delighted to have supplied products for such an innovative and important building.
"I am personally proud that we are being invited to be a natural partner in such projects," states Ståle Kristiansen, Steni's Regional Manager for Oslo. "It shows that Steni is a serious player you can trust – especially when there are challenging requirements regarding the environment and sustainability."
There were ambitious energy and environmental targets for Kilden Kindergarten. Nevertheless, we wanted to create a kindergarten that was shaped by architecture, environment and functionality together.​ Ingunn Sirevåg Jensen, Architect, Link Arkitektur​
Focus on the environment and sustainability
To be awarded a BREEAM-NOR certificate, a building must have documented environmental performance in nine categories: management, health and indoor environment, energy, transport, water, materials, waste, land use and ecology, and pollution.
"It was important that the products to be used on the walls and roof had low CO2 emissions and that they satisfied the project's BREAAM requirements," continues Ingunn Sirevåg Jensen. "They also had to be robust and represent good value. Based on these considerations, we chose Steni façade panels."
Jensen adds that the appearance naturally also played a role, and that Steni panels gave the architects additional scope when it came to aesthetics.

"Because Steni façade panels offer a range of options in terms of gloss levels, in addition to the colour palette we could use variation in weather and light to give the façade an appearance that changes through the day. This adds an extra dimension to the façade, which we plan to utilise again on future projects," Jensen explains.
FutureBuilt pilot project
In addition to receiving a BREAAM-NOR certificate at the second-highest level, the project is a FutureBuilt pilot project. That is to say, the kindergarten is part of a programme demonstrating that it is possible to develop climate-neutral city districts along with high-quality architecture.
There is a requirement that the pilot projects' greenhouse-gas emissions from transport, energy and materials be reduced by at least 50 per cent.
Ståle Kristiansen emphasises: "The industry will continue to sharpen its focus on the environment and sustainability, and Steni will be no exception. We already have a low carbon footprint; our panels have an extremely long lifetime, and the maintenance requirements are virtually non-existent. Nevertheless, we are certainly not resting on our laurels. We are working every day to make further improvements."
It shows that Steni is a serious player you can trust – especially when there are challenging requirements regarding the environment and sustainability.​ Ståle Kristiansen, Steni's Regional Manager for Oslo​