Gold for Telia building with façade panels from Steni
When Telia was designing its new, cutting-edge, environmentally friendly data processing centre in Helsinki, the architect chose to clad parts of the building with façade panels from Steni. The environmentally friendly choices resulted in a LEED gold rating for the building.
The colossal data processing centre stands out as a particularly well-designed and dramatic building on the outskirts of Helsinki. The building's façade has varying expressions in terms of light, shadow effects and colour. Telia has nestled down in offices covering a gross floor area of nearly 34.000 square metres, packed with state-of-the-art, environmentally friendly and sustainable solutions.
"The main reason we chose Steni Vision façade panels is that they effortlessly blend in with the cityscape, are sustainable and require minimal maintenance," says architect Juha Heiska from the architectural firm Parviainen Arkkitehdit Oy.
The architect is delighted with the result and the choice of material, as well as the collaboration with Steni.

"The appearance is one of high quality and durability, the façade cladding works and the collaboration with Steni has been seamless," explains Heiska.
A delivery to be proud of
Over the years, Steni has delivered façade panels for a number of large buildings, but Steni's Marketing Manager, Jan Terje Nielsen, never fails to be amazed by the various projects they contribute to.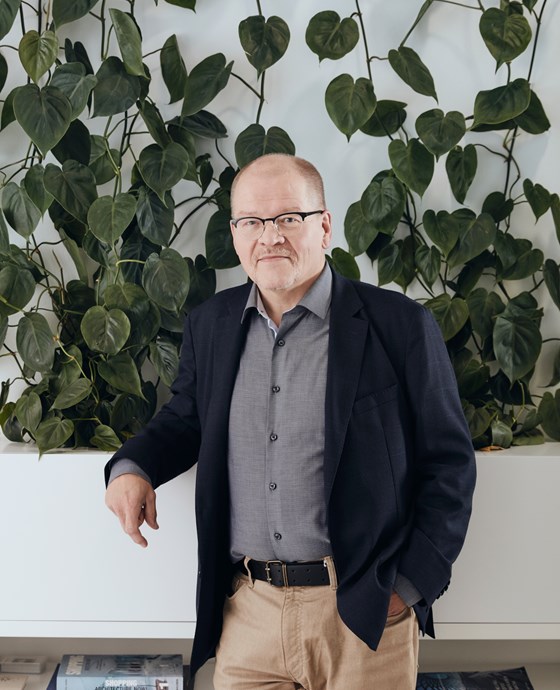 Architect: Juha Heiska is the architect who designed the data processing centre.
"We deliver materials all around the world, and have been involved in many prestigious projects. Nonetheless, there is something special about being part of projects of this size, where the result is a sensational building that will house a world-renowned technology company," says Nielsen.

In total, Steni has delivered approximately 2,000 square metres of the Steni Vision façade panel for this project. What is special about this panel is that, in addition to being robust and low-maintenance, it can be adapted to print information, artwork and identity-creating illustrations for buildings.

"I think the architect has used the façade panels' distinctive and unique properties in a highly effective manner. The result is a customised façade unlike any other in the world. This is definitely a delivery we can be proud of," says Nielsen.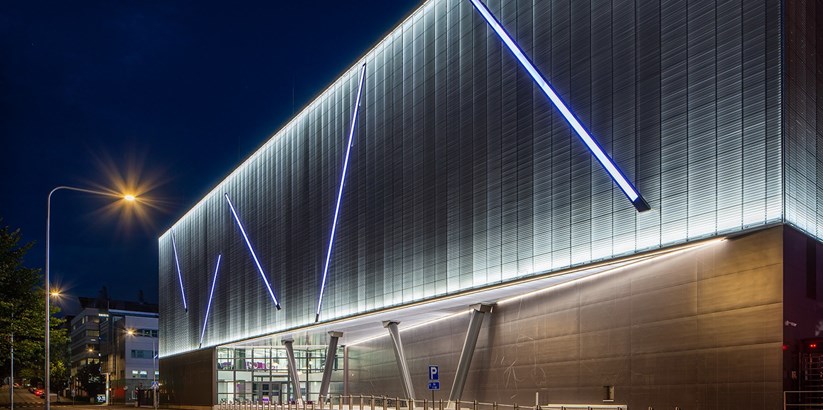 Façade panels from Steni: At ground level, the building is clad with Steni Vision façade panels.
Gold level certification
The architect's commitment to environmentally friendly, energy-efficient and sustainable solutions has resulted in the data processing centre achieving gold LEED certification.
LEED (Leadership in Energy and Environmental Design) is an international certification system for green buildings. To be certified, a building must meet certain requirements relating to sustainability and location, and energy, water and material consumption, throughout the building's life cycle.

With so much emphasis on the environment and sustainability, the fact that such a building is partly clad with façade panels from Steni says a lot about the company's products and materials, says Jan Terje Nielsen.

"It tells us that we are doing something right, and that our continuing focus on the environment and sustainability will put us in a very good position when it comes to the buildings of the future," he concludes.