Regardless of extreme weather – Steni façade panels hold their own
There are places on Earth where buildings are subjected to extraordinary stress from strong winds, massive rainfall and extreme temperatures. This puts excessive demands on the robustness and durability of the building materials – and puts Steni's façade panels to the ultimate test.
"We were looking for a long-lasting and maintenance-friendly façade panel, and it turns out that Steni Colour meets the challenges posed by our climate and environment in an exemplary way," says Magnus Magnussen.
He is an architect with BRIM Arkitekter and is responsible for the design of the newly built 'Skolen ved Strømmen' (School by the Steam) on the Faeroe Islands. This classic primary and secondary school was built in an area that places great demands on the toughness and durability of the façade panels. The building is also constructed in line with requirements for a striking architectural design, which is what led to choosing Steni Colour.
"We chose a light colour in two different finishes for the façade, which gives the building an eye-catching contrast against the green mountains," says Magnussen.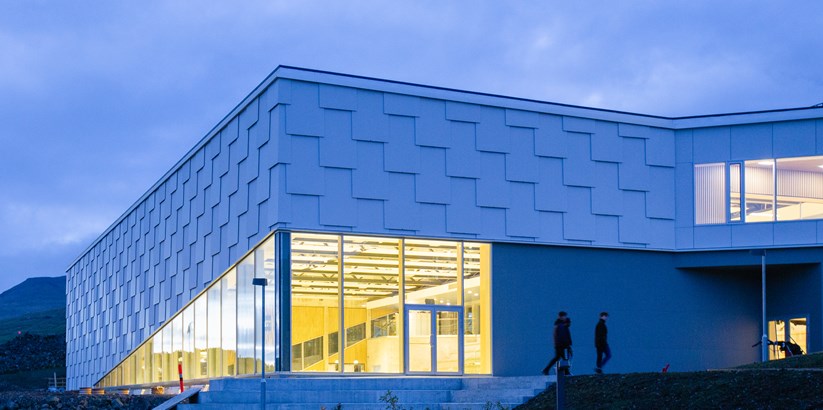 Stylish: the school building on the Faroe Islands bears a stylish and striking architectural design.
Façade panels in an Arctic climate
Another location where the panels are exposed to even greater weather-related pressures is Greenland. On the northern tip of Greenland, 924 kilometres south of the North Pole, lies Villum Research Station. Built in 2015, the research station is managed by the University of Copenhagen's Department of Plant and Environmental Sciences and the Arctic Research Centre at Aarhus University in Denmark.
With a punishing climate and temperatures creeping below -30°, this environment puts great demands on building materials. The research station therefore needed a robust – and low-maintenance – façade material. The project opted for façade panels from Steni, which delivered dark blue and white panels covering a total of almost 600 m².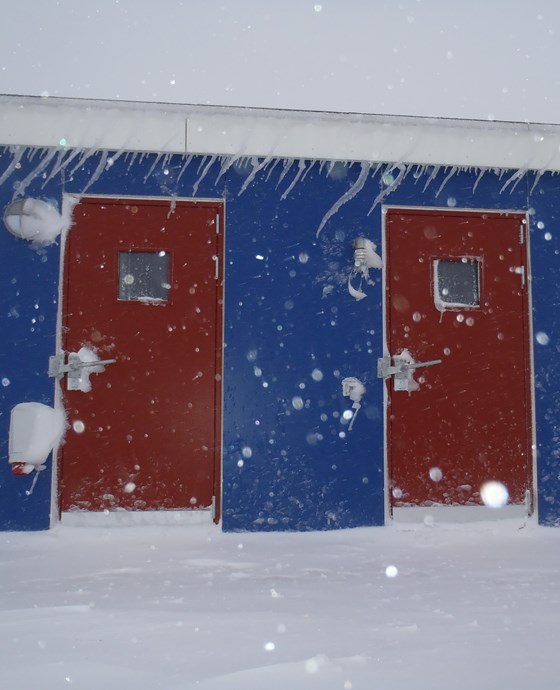 Robust façade panels: this weather demands strong building materials.
"Steni's façade panels perform admirably on the Faroe Islands and Greenland, and withstand extreme arctic conditions with ease. We have found that the panels are not damaged by the adverse conditions, nor is the panels' 60-year warranty affected," says Chief Communication and Brand Officer at Steni, Jan Terje Nielsen.
Façade panels from Steni – a reliable choice
Façade panels from Steni give you a versatile, robust and environmentally friendly façade – and the best functional warranty on the market:
60-year functional warranty
Steni's façade panels boast the best functional warranty on the market, namely 60 years. They also require minimal maintenance other than general cleaning. The panels are made of fibreglass-reinforced stone composite, which provides the end product with a long lifespan and extreme strength.
Withstands extreme stress
Stone-composite façade panels are becoming increasingly popular due to the fact that this material withstands extreme pressure and can be installed regardless of season, temperatures or weather conditions. The panels are water- and freeze-resistant and can withstand being submerged in water for a considerable length of time without sustaining damage.
Environment at the forefront
Steni is constantly minimising the environmental impact of its products and processes, both locally and globally – including by focusing on reducing their carbon footprint. Our goal is for our products to be among the best on the market in this area – now and in the future. In January 2020, Steni published its latest Environmental Product Declaration (EPD), which once again shows that STENI continues to surpass all its competitors with respect to the environment.