Frequently asked questions about Terra by STENI foundation wall panels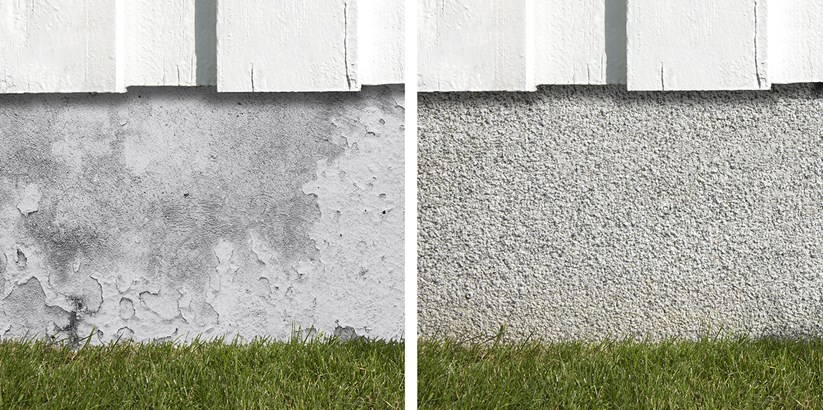 Do you have any questions about Terra by STENI? Below you can find the answers to some frequently asked questions.
In what formats and colours are the panels available?
Terra by STENI 4mm foundation walls panels are available in three standard formats: 1,195 x 2,395 mm (full format), 595 x 2,395 mm (half format) and 595 x 1,195 mm (NEW). Steni Terra is available in three standard colours: grey, white and black.
How do I install the panels?
Steni façade panels are installed as a ventilated façade on impregnated wood borders. You can download the installation instructions here.
You can also watch our installation video here. 
What type of tools do I need?
To install our panels you need a folding ruler, pencil or scratch gauge, straight edge or carpenter's level, electric power drill with screwdriver function and adjustable torque, and personal protective equipment (see our safety data sheet). If you want to cut the panel you need a circular saw with a diamond cutting disc and a sturdy support. We recommend you use a "multicut" 5.5 mm drill bit designed for masonry, steel and wood for drilling.
How should I cut the panels?
Use a manual circular saw or angle grinders with a diamond cutting disc. It is easiest to cut Colour panels from the front. It is easiest to cut Nature and Terra from the back (remember to think in reverse).
What should I do before installation?
The panels must be installed on furring strips of impregnated wood at least 21 mm thick, or strips of aluminium. The strips should be attached in accordance with the user manual (normally c/c 400 mm). Strips of EPDM foil are affixed on top of the wooden strips.
Can I use the panels on walls with fire requirements?
Steni panels cannot be used to replace plaster, master board or other non-flammable materials used in a fire wall. The Steni panel should be regarded as a surface. The panels are highly inflammable and self-extinguishing, which means they won't contribute to the spread of flames should a fire break out. Steni panels can be used a surface/cladding on walls that meet fire requirements, but will not contribute to the fire retarding effect .
It is possible to glue panels. However, changing climatic conditions can make it difficult to ensure good results. This makes it very important to closely follow the glue manufacturer's recommendations. Indoors, the climate is not a problem, and it is easier to check the installation. Steni does not give any warranty for installations using glued panels.
Can I screw the panels directly onto old wooden cladding?
First check that the underlying construction and the existing cladding is free from rot or other damage. If there is any sign of rot the cladding must be removed. If, after making such a check, you want to use the cladding as a base for our panels, we recommend that you first fix a waterproof, diffusion-permeable wind cloth before furring with impregnated furring strips. This will ensure you have a smooth surface for the installation and that any water penetration behind the panels has the chance to dry out without damaging the underlying construction.
Can I screw the panels directly onto an old brick or concrete wall?
On polished Leca or concrete the panels must be installed as ventilated cladding with a minimum of 21 mm furring.
Where can I find technical information about the product?
What kind of warranty do the panels have?
Terra by STENI have a 25-year functional warranty.
How can I clean the panels?
How will they look in ten years' time?
After a quick wash with a house cleaning liquid and high pressure rinse the panels will probably look just like they did the day you bought them. Steni façade, interior, roof and foundation wall panels have a minimum 25-year functional warranty. We offer a ten-year colour guarantee. Discolouration can occur if the surface is exposed to strong UV radiation.
All Steni panels can be painted. Painted surfaces require maintenance and it is important to choose the right type of paint for the product and area of application.
How many screws are required to cover one m2?
Approx. 16 screws are required to cover one m2.