Stop on red!
Ferrari-red landmarks keep motorists on the right track. As it runs along Lake Mjøsa, the E6 motorway is speckled with distinctive red buildings clad in Steni panels, which are designed to reduce the number of accidents.
"Experiences from the American prairie and Danish country roads show that you can keep drivers alert if you give them a visual "kick" every three minutes. On the E6 motorway along Lake Mjøsa, our goal has been to keep motorists sharp with surprising buildings and structures," explains Morten Løvseth, Architect MNAL at Løvseth + Partner.
You can't help but to notice the "Cranberries" at Strandlykkja as you drive by on the E6. These public toilets resemble nothing we are used to seeing along Norwegian country roads, so of course they keep people engaged – just as we hoped and expected.
Morten Løvseth has been involved in a number of these visual highlights along the motorway, including two bright red picnic area buildings at Andelva and the Kolomoen bridge, where traditional building techniques have been virtually turned on their head to create new triangular structures.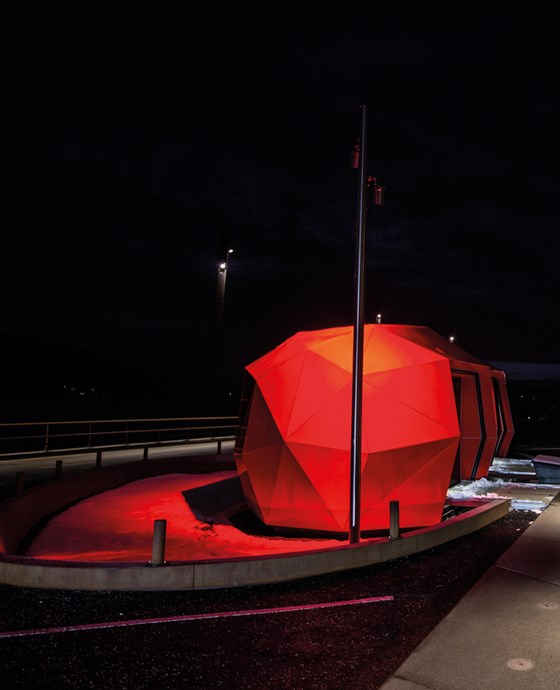 Extreme design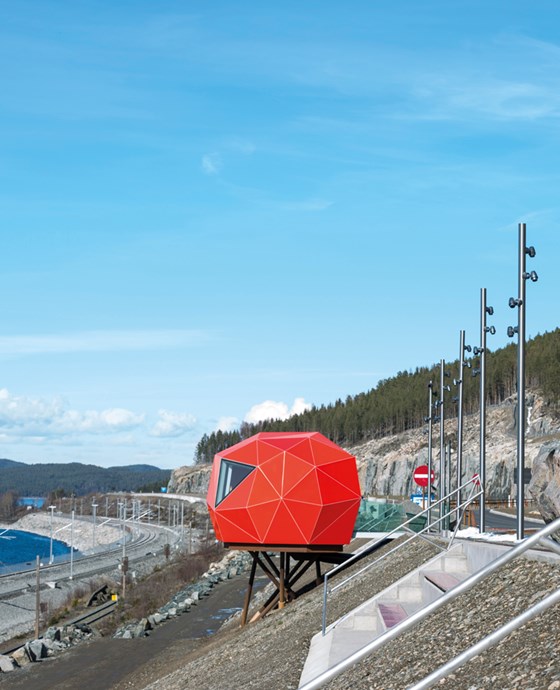 "The public toilets at Strandlykkja perfectly showcase this triangular structure," says Morten Løvseth.
We created a geometry that is highlighted by the Ferrari-red colour and gloss of Steni's façade panels.​ Morten Løvseth, Architect MNAL Løvseth + Partner​
Steni panels have also been used for the interior of the buildings to simplify the maintenance and cleaning of a space that can often get dirty. Stopping at the picnic area at Strandlykkja should provide a refreshing break from a long and desolate stretch of the E6.
A visual pick-me-up
"The purpose of emphasising design and architecture at the picnic area is to encourage motorists to stop and take a break. It is a good way to promote road safety, which is particularly important along this stretch, which has seen a number of serious accidents caused by drivers falling asleep at the wheel," says Taale Stensbye, the Norwegian Public Roads Administration's project manager for this project.
So follow the advice of the Norwegian Public Roads Administration and stop on red the next time you drive by Lake Mjøsa on the E6.
We hope we have succeeded in creating a picnic area worth visiting!​ Taale Stensbye, PROJECT MANAGER AT THE NORWEGIAN PUBLIC ROAD ADMINISTRATION​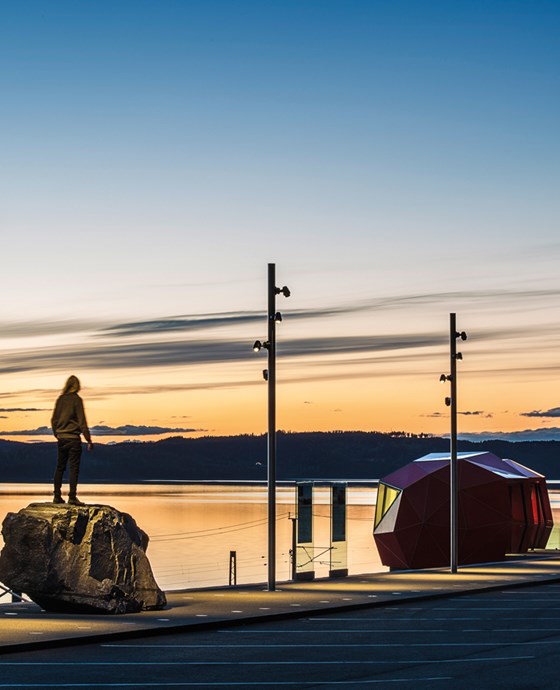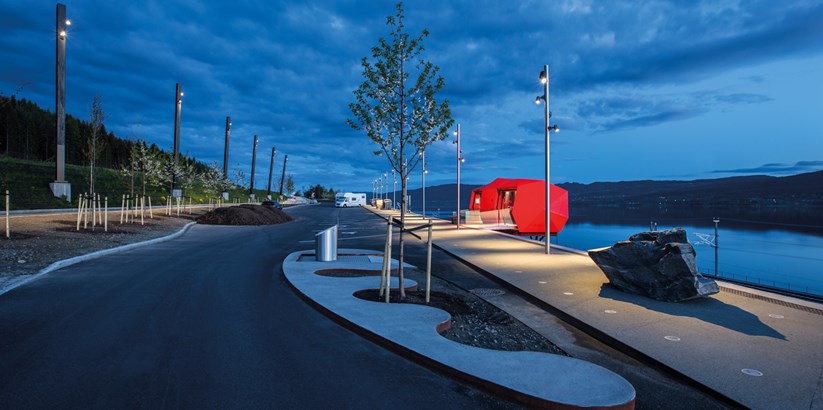 Have you ever seen anything like it? This picnic area is an example of how the Norwegian Public Road Administration is using architecture and design to increase road safety.