Improving both architecture and quality of life
With its newly renovated façades, additional sound absorption measures and balconies clad with Steni Colour, the Brunevang residential complex in Rødovre, Denmark, has been given a significant makeover.
After several years of renovations, Brunevang has become a very attractive place to live. With its whitewashed and red brick façades, red slate roofs and prominent balconies clad with white Steni Colour façade panels, the Brunevang residential complex is a typical example of Danish architecture with a high standard of living.
Classic park building
Brunevang is a classic park building from 1954. Deterioration over time and its location near the busy Motorring 3 motorway made it an increasingly less attractive place to live in. But Postfunktionærernes Andelsboligforening – the housing association that owns the building – decided to do something about it.
The companies Holmsgaard (advisor) and Mangor & Nagel (architect) were given the task of renovating Brunevang. They focused on improving the architectural expression of the building, while making the outdoor areas more user-friendly for residents by reducing traffic noise.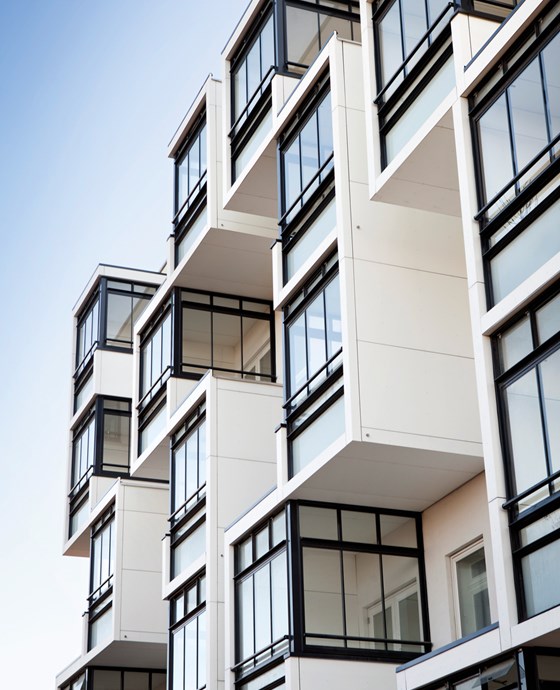 We used Steni Colour façade panels because they are made of a really durable and colourfast material.
White façade panels coupled with red brick façades.
"We used Steni Colour façade panels because they are made of a really durable and colourfast material. The panels will stay white for 'an eternity'. We used white façade panels from Steni to compliment the red brick façade at Brunevang. Together, they create a classic Danish architectural expression."​ ​
FACTS
Builder: PAB – Postfunktionærernes Andelsboligforening Administrator: FA09 Lead Advisor: Holmsgaard Architect: Mangor & Nagel Project year: 2006–2017 Product: Steni Colour and Steni corner elements
Increased demand
We notice an increased demand for Steni Colour façade panels for balconies on buildings that are due to undergo extensive renovations. This is because balconies play a decisive role in the architectural expression of a façade, and Steni Colour is the perfect choice for giving a balcony a new lease of life," says Director of Steni Denmark, Claus Bøgeskov.
Noise reduction
"We built a couple of extra floors on the block of flats facing the road and we also joined the buildings together where there was a passage between them before. This has basically created a snake-like building that shields the outdoor common area and the two-storey buildings located inside the park area against the noise," explains Karsten Nagel, architect and partner at Mangor & Nagel.
The buildings have also been equipped with what are known as "Russian windows", which reduce the traffic noise and at the same time allow for ventilation. Karsten Nagel says that they have used Steni façade panels for many years and that they are very pleased with how well they stand the test of time and how well they keep their colour.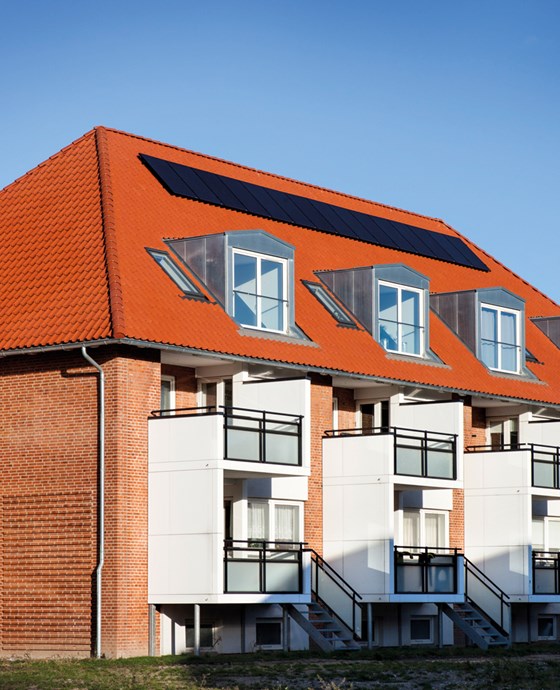 Steni Colour façade panels were chosen because of their durability and colourfastness.