Sheltered housing in a safe environment
Badeloch Housing Corporation in Eindhovenlaan in the Netherlands has built sheltered housing based on an entirely new concept. They chose façade panels from Steni.
The residential complex consists of three buildings with a total of 45 flats and is designed for those in need of care to be able to live alone or with relatives in a safe and appealing environment.
Since the population of the Netherlands is ageing – just like in most other western countries – this is an exciting future concept. The idea is that this way of living will reduce the need for increased institutional capacity – people in need of care can stay "at home" longer and don't have to move into an institution.
FACTS
The developer is Brabant Wonen, and the buildings were designed by the architects at De Twee Snoeken. The 45 flats will be ready for residents to move in during 2017. Steni delivered 800 m² of Steni Vision SV 10004 to this sheltered housing facility in the Netherlands. The façade panels were screwed onto wooden laths in widths of 13 cm.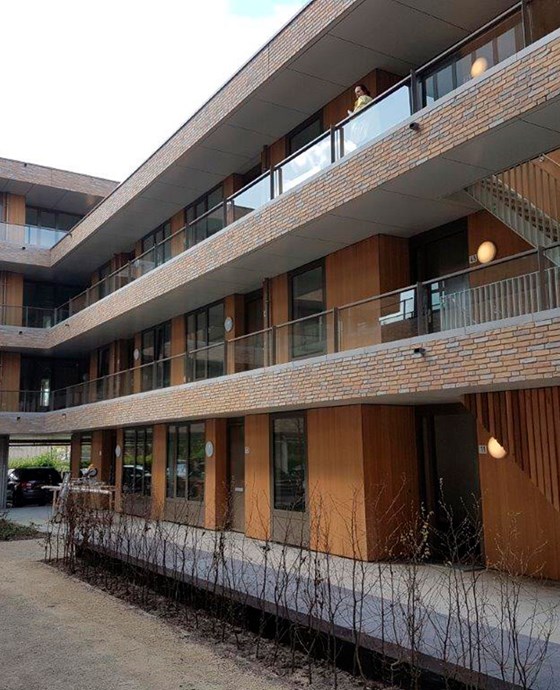 Great combination of materials – façade panels and bricks.
The concept is designed for people with physical, mental or social challenges, and for those suffering from early-stage Alzheimer's or Parkinson's. Residents can live safe and secure, while receiving the individual help and support they need. In addition to the flats, the complex also has an indoor common area where residents can get together and join in various activities run by volunteers from the neighbourhood.
In order for such a community to function, the physical environment must also be perceived as safe and appealing – green areas and façades with soft expressions, combined with low maintenance costs and a long lifespan – which is why the three buildings are connected by an atrium/garden in the middle, where residents can enjoy the fresh air in green and natural surroundings.

Steni Vision façade panels with a printed wood structure were combined with bricks to adorn the buildings. This gives the façade a natural feel while being robust, durable and easy to maintain.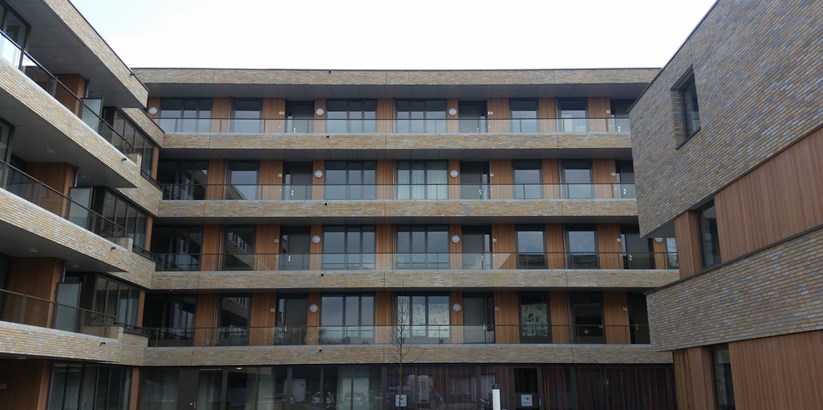 Solid and durable, yet also safe and appealing to the residents.