Revitalised 1960s apartment building
A neglected 1960s tower block has been transformed into an architectural landmark in the "EU capital" of Brussels. The façade of the combined apartment and office building known as "The Cosmopolitan" has been clad in façade panels from Steni.
"The architects were looking for a natural expression, and bearing in mind the 'old' concrete construction wanted to work with a lightweight material. So they chose Steni Nature façade panels," explains Patrick Klijnjan.
Klijnjan is Steni's sales representative in Belgium, and was responsible for Steni's deliverables for the building, which included around 6,000 square metres of façade panels.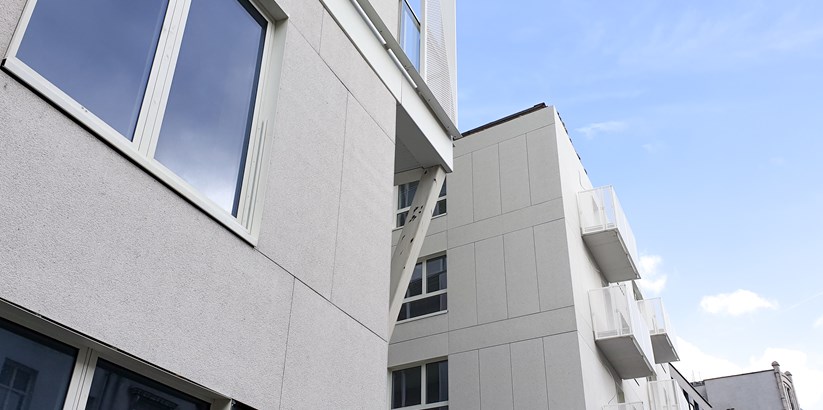 New life – new environment
In Belgium, The Cosmopolitan is cited as a good example of a creative and targeted refurbishment that has injected new life into a run-down 1960s edifice. The refurbishment is helping revitalise an area in a heavily populated city, while meeting the city's housing needs. "The refurbishment has revitalised a popular part of densely populated Brussels. With its apartments the building is also providing the city with much-needed housing," says Klijnjan.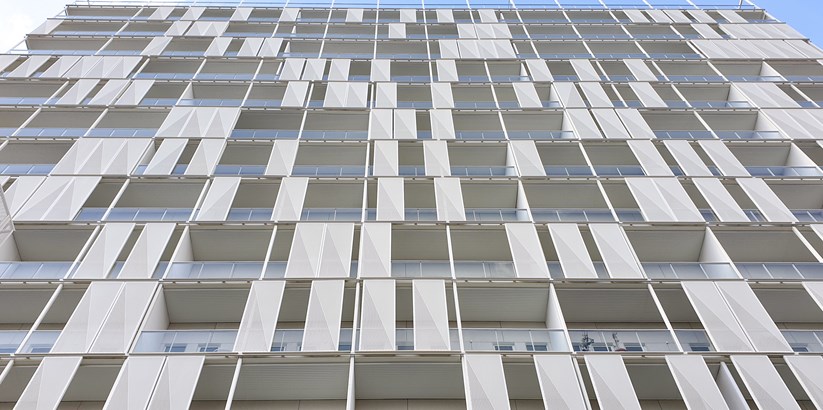 From office block to urbane apartments
In 2019, when property developer Besix Red decided to refurbish the tired concrete colossus, only the bottom two floors were in use and the building was decaying.
The location in the heart of the city inspired the architects Bogdan & Van Broeck to convert the office premises into 130 modern and urbane residential units of different sizes. The bottom two floors, covering a total of 1,500 sqm, were kept for offices and businesses.
Three floors were also added at the top, bringing the total number of storeys to 16. To create a natural transition between the apartment block and the surrounding rows of houses, it was also decided to construct a new three-storey building with 26 residential units. An underground parking area links both buildings providing 50 car parking places and 170 cycle parking places.
Both the new and the old building are clad in large Steni panels with lightly polished white natural stone.
"The Cosmopolitan is a landmark in Brussels, and is visible from much of the city. This refurbishment has inspired similar uplifting initiatives for several buildings in the area," concludes Klijnjan.
FACTS
The Cosmopolitan – Fact box
Architect: Bogdan & Van Broeck
Location: Brussels, Belgium
Category: 1,500 sqm office space and 156 apartments
Steni deliverables: Nature façade panels with lightly polished white natural stone.