Unique tunnel art using Steni Vision
How do you make a hundred metre long cycle tunnel into an art experience? Just ask the residents of Leiden in the Netherlands, who have done just that using a very special photo print on Steni Vision façade panels.
"We are proud to be a part of such an exciting project. Steni Vision façade panels are ideal for advanced photo printing and the surface remains intact year after year. The new tunnel has become an attraction for all cyclists," says Jan Terje Nielsen, Chief Communication and Brand Officer at Steni.
A 100 metre cycle tunnel was built under the motorway following the extension of the A4 in the Dutch city of Leiden a few years ago. Last year, architects Ernst van Rijn and Stephan Nierop from the architects wUrck were commissioned to: Make the tunnel a visual experience for the cyclists who use it.
Watch the video and take a virtual bike ride through the tunnel and enjoy the full panoramic picture.
Photo panorama
"To bind the whole tunnel together, we decided to make a huge photo panorama. We wanted to bring a typical Dutch landscape into the tunnel. Sky over green fields, dikes, cows, houses and church spires. We wanted to make it feel like people were cycling through the countryside," says Stephan Nierop.
Large light domes help to enhance the visual expression and make the tunnel safer for users.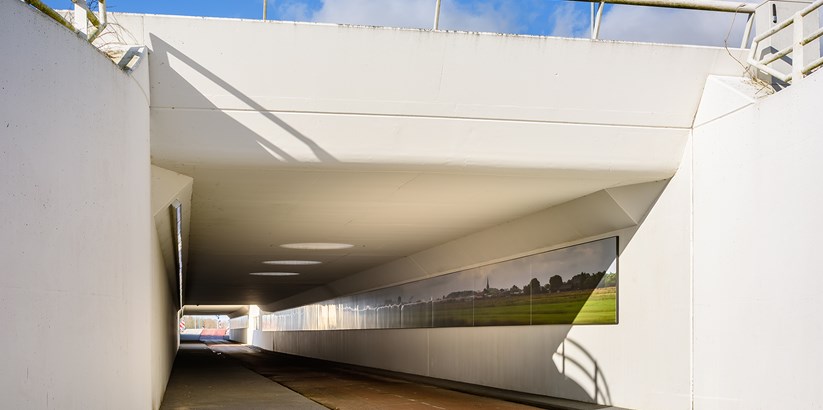 The artwork in the tunnel consists of an enormous photo panorama printed on Steni Vision panels.
TECHNICAL CHALLENGE FOR THE PHOTOGRAPHER
But how could we photograph such a long and continuous panoramic image in high resolution? Photographer Tjeerd Vonk was entrusted with the challenge.
"I started by taking a number of test photographs of various local landscapes. Once I had found the right place, it was important to wait for the right weather conditions. To avoid the heat haze that hovers over the fields in the summer, I had to take the pictures very early in the morning. My alarm clock was constantly set for 5 o'clock," says Tjeerd Vonk.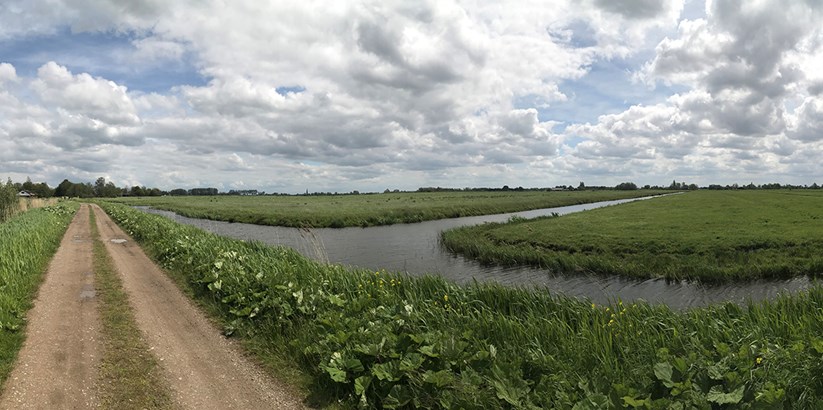 The beautiful Dutch countryside was captured on camera to adorn the bike tunnel.
PRINTING ON STONE COMPOSITE PANELS
To create the final panorama 50 photographs, all taken at the same time, were joined together.  Then the pictures were reproduced on Steni's stone composite panels and installed in the tunnel.
In January this year, the artwork was completed and the tunnel reopened. Local residents and tunnel users both loved the end result!
Our ever-reliable partner M2uur was the main contractor for the project. They were responsible for design, development of production files and installation.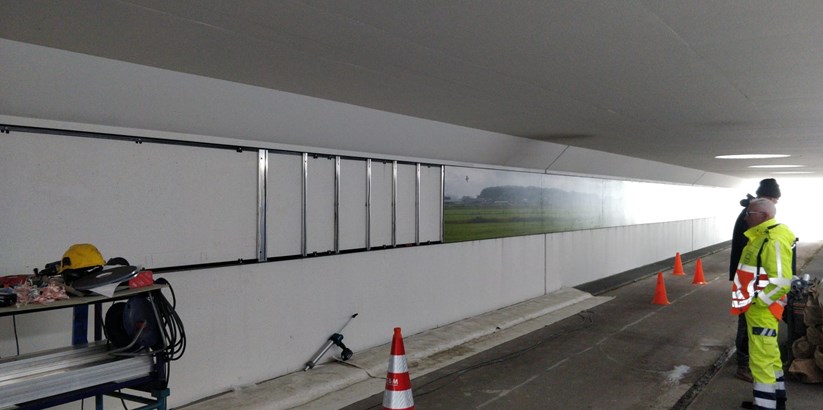 Steni Vision panels with photo printing were installed throughout the long tunnel.